The Company. Our Core Values. Our Beliefs.
At All Kind Doors we endeavour to provide the very best quality, service, and value to our clients. We promote honesty, integrity, and openness in our workplace and encourage our staff to extend these values to our clients.
We encourage innovation to meet challenges and collaborate with our valued partners to ensure a lasting relationship.
Awards
Certificate of Leadership from Provincial Glaziers Association of Alberta (PGAA)
WE ARE COR CERTIFIED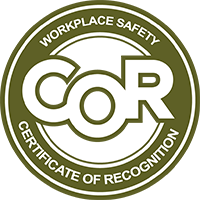 Professional Affiliations